An ode to the women of dancehall
08 Feb 2017
In 2016, the world saw a resurgence of dancehall through artists like Drake, Rihanna, Tyga and Justin Bieber, although the genre didn't ever really disappear. Being the source of inspiration for many music artists and fashion designers, this new popularity has placed dancehall at the forefront of pop culture.
Various outlets took up and unpacked these implications, but the discourse surrounding the politics of dancehall often revolved around male dancehall artists. It's important that as we continue to create conversations around dancehall, that we situate women as active players and contributors to its culture. Here are some of those women who have made dancehall what it is:
1. Sister Nancy
Once you hear those horns come through, you'll know the tune immediately. It's in Kanye's 'Famous', and you'll recognise the cadence in Lauryn Hill's 'Lost Ones'. Sister Nancy's 'Bam Bam' is a dancehall classic and just one record in a catalog that secured her as a force to be reckoned with. Born in 1962 and sister to dancehall deejay Brigadier Jerry, it was only right that Sister Nancy leave the impression that she did. In August of that year, Jamaica achieved independence and with this milestone, cultural production worked towards fostering Jamaica's identity. 20 years later, she released 'Bam Bam' and 35 years after its conception, the record's audio bites have rippled through genres outside of dancehall. Although Sister Nancy didn't engage in the same kind of lyricism as the women of dancehall do today, she is the genre's first female deejay and her title, makes her a predecessor for the women who have formed careers after.
2. Lady Patra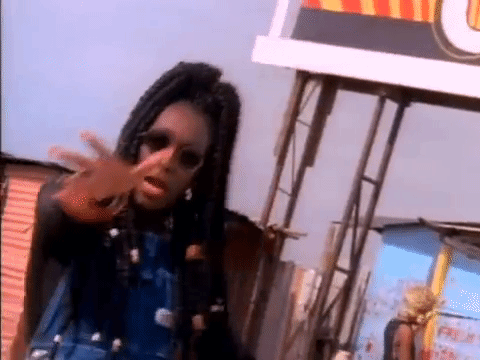 Lady Patra was not only noted for her distinctive style that is still reflected today (shout-out to the iconic Patra braids) but she did an exceptional job of crossing over into the mainstream market. Dominating the charts in the mid-90s, both her sounds and videos did the work of introducing her Jamaican heritage to an American audience. She blended recognisable elements from each culture to give her artistry edge and appeal. Patra's records placed on the U.S. Billboard Top 100 charts and U.S. rap and RnB charts but 'Worker Man', from Queen of the Pack, shot to number one on the U.S. dance chart in 1994. Other tracks that were critical in propelling her career were 'Romantic Call' featuring Yo-Yo and her feature on Shabba Ranks' 'Family Affair'. Whether she knew it or not, Patra was making progressive moves. Her ability to make her artistry accessible to her native country and abroad, without compromising (i.e. delivering her lyrics in a watered down version of Patois), was instrumental in paving the way for other female artists who draw on dancehall and Jamaican elements in their music.
3. Dancehall Queen Carlene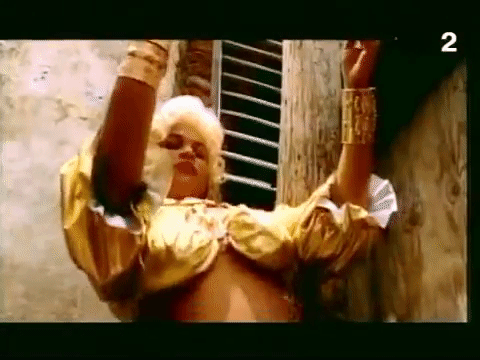 Last October, Carlene Smith was given an award for her contributions to dancehall at the Inaugural Queens of Reggae Island Honorary Ceremonies. For those who may not know her by name, you will definitely remember her blonde tresses, door-knocker earrings and iconic lamé gold two-piece set from the Chaka Demus & Pliers' 'Murder She Wrote' music video. Carlene, the original dancehall queen was well known for sporting unique styles and of course, her dance moves, particularly "The Butterfly". She shared with Lyric Digital Magazine that the dance was inspired after she went to Africa where she first saw the move. When she came back to Jamaica, she added her own flair to it to imitate a butterfly's flutter. Carlene is also noted for her partnership with Slam Condoms. Victor Wong, who currently holds the position as Slam Condom's Managing Director, approached her to appear on their product's boxes in an effort to not only prevent transmission of STIs and STDs, but to promote safe sex and increase awareness of contracting AIDS, HIV, STDs and STIs. We'll forever see Carlene's impression when we see women adorn themselves in vibrant colours and innovative hairstyles in dancehall photos and videos.
4. Dr Carolyn Cooper 
Dr. Carolyn Cooper does dancehall differently. She brought it into academic spaces, which allowed this cultural product of Jamaica to be discussed without the burden of Eurocentric respectability politics. Her most notable text, Noises In The Blood: Orality, Gender and the "Vulgar" Body of Jamaican Popular Culture and Dancehall Culture at Large, have been canonised as must-reads for anyone who want to learn the nuances of dancehall. A TEDx speaker, former newspaper columnist and driving force in dancehall's culture, Dr. Cooper's work within and outside of the academy is set to be recognised at this year's 2017 Global Reggae Conference.
5. Spice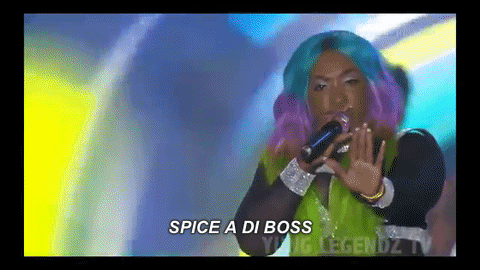 Spice's discography revolves around sex-positivity and now, more than ever, she is one of the genre's most powerful voices. Although Spice had been creating music since 2000, the exposure that she garnered from her feature on Vybz Kartel's 2008 song 'Romping Shop', skyrocketed her career. The artist's lyricism encourages women to harness their sexual agency and with every live performance, we see this actualised alongside her Team Spice dance crew. Spice's success rivals that of her male counterparts and she explores these nuances through many of her songs. One standout record is 'Like A Man', from the 2014 EP, So Mi Like It. In it, Spice asks if she would be received more if she deejayed in a similar fashion as the men in her field do, which prompts interesting discussion as her lyrical content is on par with theirs. The only difference being that it is from a female's perspective. Nonetheless, Spice's music continues to provide the soundtracks for women to embrace their sexual prowess more openly and with the same degree of comfort as men do.